Meet Cathy Mellett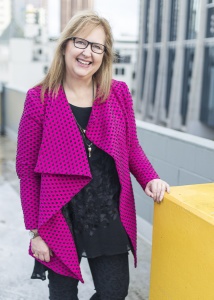 Cathy Mellett, Director
Cathy has been working in the information services industry since 1989, even before the Internet as we know it was around. That gives her an unrivalled body of experience to support client's online aspirations in an ever-changing digital world.
Having already spent 20 years in both advisory and management capacities in information services, Cathy founded Net Branding in 2009. Recognising Social Media's potential for businesses early, Cathy was at the forefront of its wider application assisting numerous companies launch successful Social Media profiles in New Zealand and Internationally. But it didn't stop there…
"Traditionally, social networking was a tool for individuals, high schools or workplaces. However, we have moved well beyond friendships or even the development of professional alliances. We are now all intimately acquainted with many online sources where we gather and share first-hand information, experiences and recommendations."
Today, Net Branding provides integrated online solutions to help businesses make more of their marketing opportunities across the digital sphere.
"With a strategic and operational management background I was well aware that the internet was a means to an end; that the underlying business objectives that fuel your foray into the 'world of the internet' is the ultimate driver for your business."
For Cathy, that means choosing from your entire repertoire of online tools; understanding that your approach needs to be uniquely tailored to your audience, your potential customers and your intended outcomes.


"My job is to place our clients firmly into the conversation – still tailored to where their audiences meet and still focused on their core business objectives. We give them an authentic platform to extend their brand message and profile to boost trade, communicate with potential clients and build authority in their industry."
The online world has grown exponentially since Net Branding's launch and we have grown with it. Cathy now leads a team of experts who ensure that continuous learning, development and best practice underpin all that we do.
"My path into the realm of Search Engine Optimisation (SEO) and Online Branding was an extension of my strategic management background. The goal, however remains unchanged; to assist businesses capture their segment of the market effectively."
And to that end our solutions are tailored to your needs and expertly supported in the way that works best for you. Talk to Cathy and discover how Net Branding can help take your business further, faster.
"I am passionate about enabling organisations to embrace digital marketing. It is not only adaptable and affordable; it is the single most effective way to capture your segment of your market."
Expect more from the web. Be Heard, Be Seen, Be Found Online with Net Branding.
International Speaker Bio
Dynamic and down to earth, Cathy Mellett has unique insight into the dawn of the modern Internet having worked in information services since 1989. She had the prescience to recognise the potential of digital developments and has run her own successful digital branding agency since 2009.
Her passion for providing affordable and effective online marketing solutions for businesses has seen her work with numerous clients on Internet Marketing, SEO, Social Media and Website services to more than 250 businesses in New Zealand and overseas.
Cathy is able to speak informatively and fluently across the full digital media spectrum providing foundation understanding, key insights and future trends to enable business owners and managers to more effectively deliver to their own business goals.
Her engaging and practical approach, supported by a wealth of experience unmasks the complexities of online marketing and gives her audience unrivalled access into a world of opportunity that has often been considered to be daunting.
To engage Cathy Mellett as your speaker for your next keynote presentation or business event, please contact Cathy Mellett
New Net Branding Logo – January 2016

Previous Logo – 2009-2015
Be Seen, Be Heard, Be Found Online™.
Our web development experts are able to assist with the designed and development of your business website. We take into account your Search Engine Optimisation (SEO) needs and consider how your website needs to integrate with your current or planned future digital assets. As an end to end solution digital agency, we look forward to assisting you.
As a full-service Auckland online marketing company, we offer an integrated digital marketing solution to our clients. These digital services start with your digital strategy, embrace SEO (Search Engine Optimisation), social media marketing, website development and search engine marketing. Our digital service includes your online advertising via Google adwords, display advertising, and remarketing. Your custom social media marketing targets your current clients and connects you to your future clients or consumers – no matter where they are. Email marketing services are available and we have a few tricks up our sleeves to save time. We totally understand that regular online content can sometimes be difficult to create when you are focused on the day to day operations of your business. The digital experts at Net Branding create and share unique engaging content. This is secured into a trusted and reliable Content Management System (CMS). Our website development experts are able to assist with the designed and development of your business website. We do the above with years of combined IT, SEO, technical website development and digital marketing experience. We've certainly seen a thing or two. But, we also believe in giving back and have strong social ties to the local community and chosen charities.
We support these charities with our monthly digital offering. We believe that giving back to help, builds stronger communities and this is important for our future generations.
As digital marketing experts, we understand how important it is to be visible online. Net Branding prides itself on the professional services it delivers and online results it achieves for its clients. Based on our extensive experience and industry best practice, various tools, techniques, and assessments are used to ensure we maximise the online opportunities for our clients on a monthly basis. Be where your customers are looking. Be Seen, Be Heard, Be Found Online™.
165 Orakei Road, Remuera, Auckland, New Zealand
Phone: +64(09)523 0478
Mobile: +64 (0) 211 229116
Skype: ian.mellett
Email: sales@netbranding.co.nz
Our office is open:
Monday–Friday 9am-6pm.