Should your business have a Facebook page or a Facebook group? We discuss the pros and cons of each for your digital marketing efforts on Facebook.  A Facebook page vs Facebook group is a repeat question that our digital marketing consultants get asked.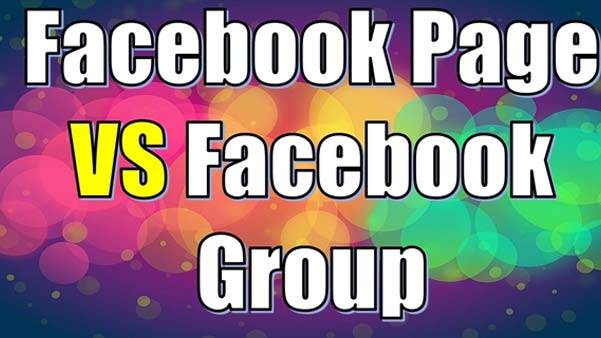 Making connections on Facebook is not merely limited to friends – it's great for businesses of all shapes and sizes too. In fact, I have always emphasized the importance to every business of having a presence on Facebook. As pretty much the world's largest social networking community, if you use Facebook properly for your digital marketing efforts you really can't go wrong. However, when it comes to Facebook marketing, I often get asked the question, "Should I have a Facebook page or a Facebook group for my business?"
While Facebook offers many ways to promote your brand, two of the most important ones are Facebook pages and Facebook groups. Pages and groups are completely different things – and they each have distinct advantages. For the purposes of your brand's Facebook marketing efforts, it's important to understand the pros and cons of each. But first, let's get a handle on the difference between a Facebook page and group.
Facebook page vs Facebook group – what's the difference
In essence, a Facebook page functions like a personal profile for a business, brand or organisation, whereas a Facebook group functions more like a forum where people with similar interests can gather online to talk about what's dear to their heart.
For example, say you run a business that specializes in the repair of car radiators. In addition to your business website you may also have a Facebook page for your business – it's a great way for posting news and tips about radiator care and directing viewers back to your website. However, if you're in the business of car radiator repairs it's very likely you're also into all things to do with cars. So you might start a Facebook group for motor enthusiasts that others with similar interests can join. They'll post pictures and share experiences, and you'll be at the center of it all – and if you grow a thriving community, people will look to you for your (and your business') expertise.
Facebook pages are great for two-way communication, between you and your followers, which makes a page perfect for businesses who want to make announcements to large groups of people. By connecting with a page, people to closely follow a specific business or brand. Pages are also verified for authenticity, which can help to cultivate greater trust in your brand among users.
Facebook groups, on the other hand, allow equal communication between all members of the group, which makes them great for enthusiasts who want to talk among themselves like an online community. And if you create a group, you can decide whether to make it publicly available for anyone to join, require administrator approval for members to join, or keep it private and by invitation only.
You can always create a Facebook page for your business as well as create and/or belong to a Facebook group. In other words, you're not limited to one or the other – it's just that they're different, with different pros and cons. So let's outline some of the main pros and cons of each for your business.
Pros and cons of Facebook pages for businesses
Page pros
Facebook pages have built-in analytics, which are great for providing you with very valuable insights into what aspect of your Facebook marketing are working.
SEO – Facebook pages will show up in Google searches (whereas Facebook groups won't) – in other words, it's much easier for people to find you in search.
Facebook pages offer advertising tools, like Facebook Ads, and the ability to build an email list, which is great for direct marketing options.
Facebook pages can be branded more closely to your business profile, enabling you to customize the page more for your purposes and to make your content stand out from that of others.
As we said earlier, pages are also verified for authenticity, which helps to build credibility for your business when customers find your page through an online search.
Page cons
It's harder to increase the reach of your page organically – you have to invest in Facebook Ads to provide a boost.
Pages are mostly a 'broadcast' tool so conversations are more difficult to accomplish, especially between fans.
The constantly changing Facebook Algorithm has put a damper on the visibility of posts by Facebook pages in people's newsfeeds (this is not the case with posts to Facebook groups).
Pros and cons of Facebook groups for businesses
Group pros:
The best Facebook groups are discussion-rich and, since participation is optional, only the people who want to be there show up – so you already have an 'on-side audience' so to speak.
Groups can have a much higher organic growth rate (than pages) and are much more visible in people's newsfeeds (thanks to the Facebook Algorithm).
You can easily communicate with all members of a group via chat, email or wall posts – a great way for a business to promote an event, for example.
If you're the group leader, then you've already established yourself as an expert, with all the benefits that that entails for your business situation too, like finding it far easier to direct your audience to your blog or website.
Group cons:
Facebook groups offer no analytics or insights – so it's harder to keep track of how you're doing.
Facebook groups don't show up in searches, which makes them very difficult for other people to find unless they're already part of a group or have a friend who joins.
Facebook groups require a lot of time if you want to manage them properly – you need to be there throughout the day to monitor (and contribute) to the conversations.
Unlike pages, groups don't allow you to add on any additional applications for promotions or brand look-and-feel.
These are some of the main differences between Facebook pages and groups. Both have advantages and disadvantages for business use. Deciding on whether to include a Facebook page or a Facebook group in your business' digital marketing strategy is probably going to boil down to what you're trying to achieve. Just remember, it's not an either/or situation – you can have both a page and a group.
Want to find out more?
If you'd like to have an informed discussion about whether to include a Facebook page or a Facebook group, or both, in your digital strategy, simply get in touch with the team at Net Branding. Our team of digital marketing specialists will be able to talk you though the options and what's best for the specific needs of your business.